Non-fungible tokens (NFTs) have been a topic of interest for most techies over the past few years. But more recently, this nascent space started gaining popularity across other industries, with several Hollywood celebrities and gaming publishers joining the bandwagon. Last year alone, the NFT market generated over $24.7 billion in trading volume amidst a tough macro outlook and systemic risks that rocked the digital asset industry.
What's even more interesting to observe is the shift from speculative NFT use cases to a more utility-focused ecosystem. NFTs have undergone a significant evolution from the early days of CryptoKitties to Beeple's record-breaking $69 million digital art sale, and now big brands are making a debut into the space.
So, do NFTs really have a chance of bridging the gap between traditional industries and on-chain economies? Perhaps we shouldn't be too quick to jump into any conclusions, but based on the fundamental value of this novel technology, it is not surprising that there is an increased appetite for NFTs.
Collins Dictionary announced "NFT" as the Word of the Year back in 2021, and although the momentum slowed down last year, Q1 2023 started on a high note. The NFT market witnessed a 147% increase in trading volume, reaching a total of $4.7 million compared to the previous quarter.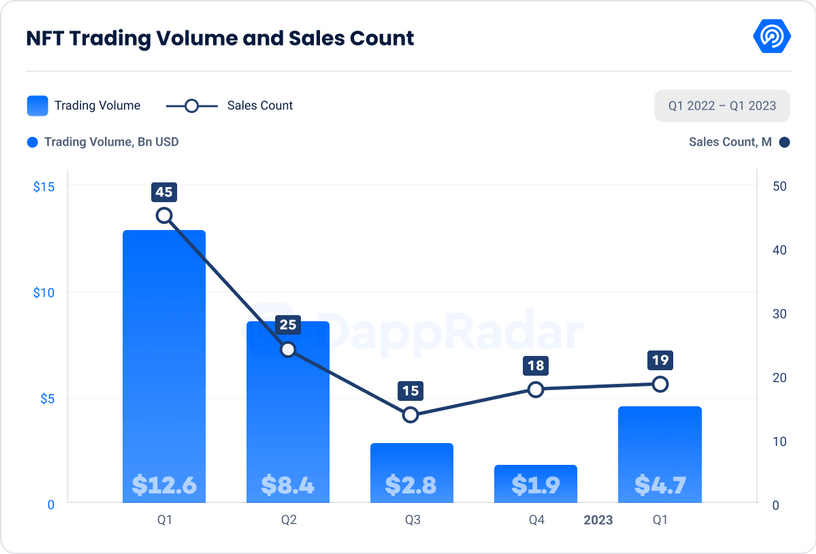 Image source: DApp Radar
NFTs Transforming Industries in the Digital Age
Since the launch of the internet in the early 1980s, the world has become a global hub where people can interact within milliseconds regardless of their geographical locations. But more importantly, the digital age is now ushering in a new era of technologies, popularly touted as the fourth industrial revolution (4IR).
In this new paradigm, NFT innovations are emerging as a game-changer, thanks to their unique infrastructure which allows users to integrate real-world assets with the blockchain. NFTs are revolutionizing the way individuals and organizations conduct business, from creating digital identities and collectibles to trading and investing in financial assets.
This technology also has implications for the world of gaming, with NFTs used for in-game purchases, digital asset ownership, and even as rewards for winning tournaments. That said, let's dive into a few detailed examples where the transformative power of NFTs is already being put to work.
The Gaming Industry
According to the latest analytics from Statista, the US video gaming industry recorded a market capitalization of $97.67 billion, setting a new all-time high. While this industry already enjoys a significant market share of the digital ecosystem, NFTs are now introducing endless possibilities in the gaming realm. Most notably, the play-to-earn (p2e) model where players have an opportunity to enjoy the gaming experience as they earn a passive income.
The p2e model is the reason why NFT-oriented games like Axie Infinity became so popular at the height of the pandemic; players in low-income countries such as The Philippines were making more than the average wage by playing this game. Today, the NFT market has morphed into a more advanced ecosystem, attracting traditional game publishers such as Atari, which recently launched a suite of experiences on The Sandbox metaverse.
Microsoft is also eyeing the acquisition of Activision Blizzard although the process has been met with resistance by U.S regulators. In an earlier keynote address, the company's CEO Satya Nadella, compares the metaverse to the internet evolution in the early 90s. He goes on to add that this technology will greatly improve the gaming experience,
"It's no longer just playing a game with friends. You can be in the game with them."
Art and Entertainment
First it was Beeple's $69 million digital art sale, then came the popular Bored Ape Yacht Club (BAYC) and Cryptopunk NFTs, which were purchased by popular celebrities such as Steve Aoki, Jay-Z and Snoop Dogg. It is safe to say that the NFT wave caught on pretty fast with the art and entertainment industry. As of writing, a good number of production companies and artists are looking into how they can leverage this technology to increase their revenue.
The decentralized nature of NFT marketplaces eliminates middlemen who have for long been the main beneficiaries while the artist receives peanuts in form of royalties. Out of approximately 8 million artists on Spotify, only 42,100 artists (0.53%) make over $10K. But with NFTs, it is now possible for an artist to put up an auction on a decentralized marketplace and sell their art for millions without having to give up the lion's share of the revenue.
As for entertainment, NFTs are creating an opportunity for celebrities to interact directly with their fanbase. For instance, a celebrity can create an NFT collection that gives specialized levels of access, allowing fans to interact with them based on the value of the collectible they hold. It is also noteworthy that musicians now have an opportunity to record their albums as NFTs and sell them without going through an intermediary.
Financial Markets Integration
Financial markets have long operated in silos, with most market instruments being limited to specific jurisdictions, locking out potential investors. However, with the advent of NFTs, there is an opportunity to create borderless markets through asset tokenization. This is the process of integrating off-chain assets, such as stocks, treasury bonds, and commodities like gold, with the blockchain.
Top-tier global fund managers, including VanEck and consultancy firm BCG, estimate that the tokenization market will grow into a trillion-dollar ecosystem within the next decade. Although the integration in this niche is not yet as advanced as the aforementioned industries, the financial market ecosystem has rarely shied away from innovative technologies, and NFTs offer an avenue to increase liquidity.
Even more interesting, it is now possible for anyone to gain a deeper understanding of the financial markets through gamified experiences such as the one offered by Tradelite Solutions. The gaming suite features a new genre of metaverse-oriented games dubbed 'Financial Entertainment', where players can access video games that provide a combination of financial literacy and immersive gaming experiences. This type of play-to-learn experience is both engaging and informative.
NFTs and the Sports World
The sports arena is another industry where NFTs are changing the game, both for professional athletes and the fans. If you are an avid supporter of a particular team, you probably own physical memorabilia or understand the value of it. Think of the famous Mickey Mantle baseball card which sold for a whopping $12.6 million last year. NFTs present a similar opportunity but, in this case, it is a virtual collection with a unique entry on the blockchain.
With NFT memorabilia, it is much easier to sell through decentralized marketplaces or even display it on the metaverse as part of a larger collection. I know you might be thinking, "How does one guarantee its safety if it can be viewed online by anyone?" That's where the verifiability aspect of the blockchain comes in; NFT memorabilia stored on-chain shows exactly who owns the digital asset and the chain of transfer if it has switched hands over the years.
Besides fan engagement, NFTs are becoming a popular ticketing tool for sporting events. The immutable nature of the blockchain makes it hard for malicious players to create duplicate tickets. Dallas Mavericks owner Mark Cuban has previously said that the club is considering issuing NFTs for their game tickets.
"With the [Mavericks], we're trying to find a good option for turning our tickets into NFTs. We want to be able to find ways so that not only can our consumers, our fans, buy tickets and resell them, but we continue to make a royalty on them."
A Glimpse Into the Future
The NFT market has withstood the test of time, thriving in the 2021 bull market and weathering the current crypto winter. But at this point, it is no longer about speculating and making a few quick bucks; the main question is what exactly NFTs bring to the table. As I have broken down in this piece, NFTs are introducing a new frontier for creative commerce in native industries whose modus operandi has basically remained the same over the past two decades.
That being the case, it is more likely than not that we will have more sectors adopting NFTs in a massive way. Already, the fashion industry is slowly joining the club, with major brands like Nike launching "phygital" collections: NFTs tied to physical assets. A trend that will likely be replicated by other players in the industry. In summary, NFTs are gradually changing how we interact and do business, bit by bit.